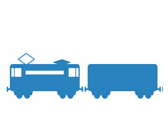 8. 7. 2019
The OLTIS Group Company is one of the leading suppliers of IT systems for transport, forwarding and logistics on the market. OLTIS Group is continually expanding not only its range of products but also services, which have not been included into its portfolio in comparison to the previous years. One of these new activities entails the operation of a GPS rental unit for tracking railway wagons and locomotives.
"Many of our customers have addressed us with the demand for short-term rental of GPS units for tracking of railway wagons and locomotives. Mainly the need concerned tracking one particular order for a fixed period of time. Our customers did not want to buy particular equipment because they were not convinced with the equipment's usage after the end of the contracted work. Therefore, we decided to create a rental point for these devices. «We think it is a good opportunity to expand our services and satisfy our customers' needs", says Stanislav Kovář, Sales Manager for the Czech and Slovak Republic at OLTIS Group.
As part of the rental of GPS communication units, it is possible to borrow a new model of GPS battery unit with magnets for a short period of time, which simplifies the installation of the unit. The capacity of the battery lasts and operates approximately 6 months, which is sufficient for intended short-term loans. By setting the interval for sending messages indicating the location from a GPS device, there is a possibility to extend the unit of measurement of the device. The basic interval setting is 15 minutes. The new unit is equipped with a shock sensor so it is able to send impact information that exceeds a set value, usually 3g, which corresponds to an impact of 10km / h on a real obstacle. The unit also offers the ATEX EX II 3G Ex ic IIA T4 Gc certificate.